Don't they look like the perfect soldiers lined up?
George's favorite color is red.
Every now and then (all the time actually) he wants me to paint something in red.
So far when George suggests something it's worked out pretty well.
SO I WENT FOR IT ... and was scared the whole time!
** Dark wax **
Here's how these 4 beige 80's chairs started out and how they ended up.
Part 2 of *THE CAPTAIN AND HIS SOLDIERS* can be read
here
Sharing with: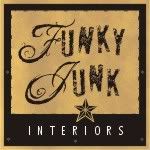 http://micheleravendesigns.blogspot.com